July 22 2013
Catherine, the Duchess of Cambridge, was admitted to hospital in labor on Monday, July 22. As the world awaits the birth, MealEasy's Chef Paul Routhier has designed a delicious meal in celebration of Kate Middleton.
High in iron, vitamins A and C, and less than 450 calories, this energizing meal will replenish much needed nutrients post-pregnancy.
Want the grocery list? Get in touch!
Baby Spinach & Strawberry Salad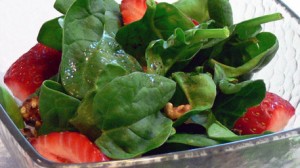 Servings: x4 Prep Time: 10 minutes 
Ingredients:

2 tbsp canola oil
2 tsp vinegar, cider
1 tsp maple syrup
1 tsp Dijon mustard
8 cups spinach, baby
1/2 onion, red, sliced (~1 1/3 cups)
16 strawberries, fresh
2 tbsp walnuts, roasted, chopped
Instructions:

In a small bowl, whisk together the oil, vinegar, maple syrup and Dijon.

Wash and dry spinach well.

Cut onion in half.

Wash strawberries and slice into quarters.

Place spinach, onion and strawberries in a large salad bowl.

Just before serving, whisk dressing, pour over salad and toss.

Sprinkle with walnuts and serve.
Grilled Spice Rubbed Salmon
Servings: x4 Prep Time: 5 minutes Cooking Time: 15 mins Other Time: 15 mins
Freezable: Yes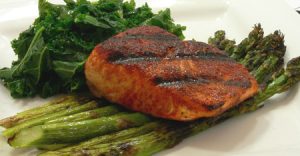 Ingredients:

2 tsp paprika, sweet 1
1 tsp chili powder
2 tsp paprika, smoked hot
1/2 tsp sugar, dark brown
1/4 tsp garlic powder
1/4 tsp salt, sea
1/4 tsp pepper, black freshly ground
1/8 tsp cumin, ground
1/8 tsp oregano, dried flakes
1 lb fish, salmon, fresh, skinless, cut into 4 fillets 2
1 tsp olive oil

Alternatives would be: paprika, hungarian hot
Alternatives would be: fish, tilapia, fresh or frozen
Instructions:

Combine the paprikas, chili powder, brown sugar, garlic powder, salt, pepper, cumin and oregano in a bowl.

Rub this spice mixture onto the salmon pieces and allow to stand for 15 minutes.

Preheat the barbecue.

Brush the salmon pieces with the oil and grill, turning over once until cooked through, about 12 minutes.
Steamed Kale
Servings: x4 Prep Time: 2 mins Cooking Time: 8 mins
Ingredients:
12 oz kale, trimmed, stems removed (~5 cups)
1/2 tsp butter, unsalted, melted
1/4 tsp pepper, black freshly ground
Instructions:

Separate the thick stems from the kale leaves and discard.

Heat a steamer over high heat.

Add the kale leaves and steam until tender, about 4 minutes, covered.

Remove from the steamer and drizzle with melted butter and season with pepper.
Grilled Asparagus
Servings:

 x4 

Prep Time:

 2 mins 

Cooking Time:

 6 mins 

Freezable:

 Yes
32 spear asparagus, trimmed
1 tsp olive oil
1/8 tsp salt, sea
1/4 tsp pepper, black freshly ground
Instructions:

Preheat the barbecue to high.

Trim the asparagus.

Toss the asparagus with the olive oil, salt and pepper.

Grill the asparagus until tender, turning often, about 6 minutes.
Please follow and like us: