June 12 2013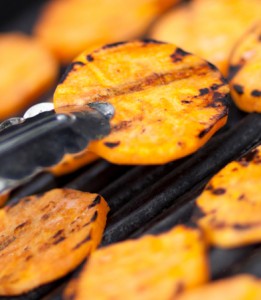 MealEasy's Chef Paul recommends this fabulous heart-healthy meal for Father's Day:
Grilled Pork Chops with Feta & Tomatoes
Grilled Sweet Potato & Asparagus
Fresh Fruit with Vanilla Sour Cream
It's Father's Day this Sunday and what better way to show dad you love him than by letting him relax so you can take over the grill!
Here's your chance to show dad that the grill can cook more then steaks, burgers and sausages. Yes, you can even grill heart-healthy vegetables!
We've assembled a super easy and supremely tasty barbecue feast fit for the King of the household. With a yummy grilled pork chop featuring Mediterranean flavors, grilled asparagus and grilled sweet potato with a dessert featuring fresh fruit. Dad won't even notice that it's fewer than 15g of fat!! That's less than a tablespoon including the desert! Taking care of dad's heart on Father's Day – what says I Love You better than that?!
So grab those BBQ tongs and get grillin'! And the best part about grilling – there's no pots and pans to clean up afterwards!
Enjoy!
Download your own Father's Day Menu Now
Download Father's Day Menu Grocery List


Please follow and like us: