July 11 2013
Give this delicious recipe a try this weekend. 
Email support@mealeasy.com the number of servings you want to prepare, and we'll send you the revised recipe and grocery list!
Servings: x4
Ready In: 40 min
Cuisine Type: Italian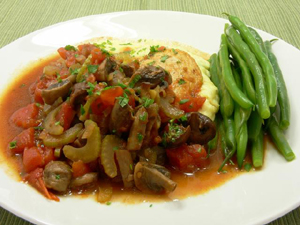 Chef Paul's Comments:
Mushrooms, red wine and tomatoes are here in this luscious Italian classic.
Wine Pairing Suggestions:
Corbieres (Languedoc) or Pinot Noir (Oregon)
This dish can handle a fairly robust Red wine.
Ingredients:
For the chicken:
1 tbsp canola oil
12 oz chicken breast cutlet, cut into equal portions
1/4 tsp salt, sea
1/4 tsp pepper, black freshly ground
1 onion, yellow, diced (~2/3 cup)
2 celery stalk, sliced thin (~2/3 cup)
8 oz mushroom, button or common white, quartered (~12 2/3)
1/4 cup wine, red dry
3 cups tomatoes, canned diced, no salt added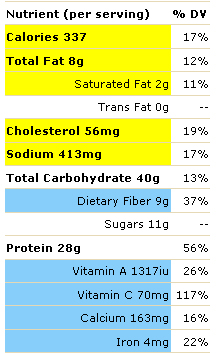 1 bay leaf
2 sprig rosemary, fresh
2 tbsp parsley, fresh italian / flat leaf, chopped
1/4 tsp paprika, sweet
For the mashed potatoes:
1 lb potatoes, yukon gold, peeled, cut into 1″ pieces (~3 cups)
3 cloves garlic, peeled, whole (~1 tbsp)
1/3 cup milk, 2%
1 1/2 tsp butter, unsalted
1/4 tsp salt, kosher
1/2 tsp pepper, black freshly ground
For the green beans:
2 cups water
12 oz beans, green, trimmed (~61 3/4)
1/2 tsp butter, unsalted
1/4 tsp pepper, black freshly ground
Instructions:
Cooking
a) Heat the oil in a large pan over medium high heat.
b) Season the chicken with salt and pepper.
c) Saute the chicken until browned on both sides, about 2 minutes per side, and remove to a plate.
d) Cover to keep warm.
e) Reduce the heat to medium and add the onion, celery and mushrooms to the pan.
f) Saute for 5 minutes.
g) Add the wine and simmer for 1 minute.
h) Reduce the heat to low and add the tomatoes, bay leaf, rosemary, 1 tbsp parsley and paprika.
i) Return the chicken to the pan and simmer for 20 minutes.
j) Meanwhile, peel and cut the potatoes and place in a pot of cold salted water.
k) Add the whole garlic cloves and bring to a boil, simmer until done.
l) Now you can prep and cook the green beans as the potatoes and chicken cook. Heat salted water in the bottom half of a steamer and bring to a boil.
m) Place trimmed green beans in top half and cover, steam for 6 minutes or until soft but still crunchy.
n) Immediately toss green beans with butter and pepper and serve.
o) Once the potatoes are cooked, drain the potatoes and garlic and return to the pot over low heat.
p) Add the butter and milk and mash the potatoes and garlic using a potato masher.
q) Season with salt and pepper.
r) Remove the bay leaf and rosemary from the chicken.
s) Sprinkle with remaining parsley and serve along with the mashed potatoes and green beans.
Visit mealeasy.com for more delicious meal ideas.
Please follow and like us: