July 19 2017
We are pleased to announce the release of an enhanced mobile version of MealEasy! Now even easier to use on ANY mobile device!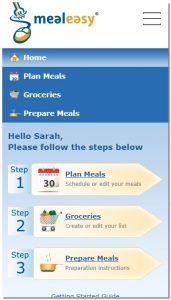 It's now even easier on your mobile device to:
Navigate the entire web app
Schedule & view meal details
Access your grocery list on the go
And prepare all the delicious and healthy meals!
Works on just about any device including the latest iPhones, Android phones, iPads/tablets, and of course also on PC or Mac.
Did you know MealEasy is NOT a recipe site?
MealEasy is an online service that helps ANYONE improve their health by showing EXACTLY what to eat and how to prepare it using healthy whole food ingredients. There's NO guesswork involved!
All our make-at-home meals are designed with input from health professionals, following strict established guidelines from health authorities. Combined with MealEasy's planning system, you are guaranteed to be on the right track as soon as you start.
We are hear to help you and sincerely want what is best for you, with no advertising or outside interests.
Why Consider It?
Though you may think you are eating healthy, there is a good chance you are not.
Over 70% of the American population over age 20 is now obese and the stats are getting much worse! This is linked to the top life threatening health conditions. The ROOT cause of all this is that we are now unknowingly eating primarily processed VERY unhealthy food. If we want a better future for ourselves and our children something has to be done!
That's why we created MealEasy. To make it easy for anyone to improve their health and finally KNOW they are eating healthy.
Join today and your health and family will thank you!
Please follow and like us: