April 20 2012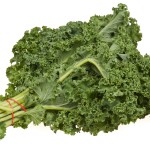 My brother was the world's pickiest eater. It was always white bread toast for breakfast; fish sticks and chips for lunch; and chicken and potatoes for dinner. Now, in his mid thirties, he has a new appreciation of most foods. Surprisingly, one of his new favorite foods is kale. And why not, kale is delicious, nutritious and easily cooked.
I wrote recently about chia and its status as a "superfood". Well, if we're talking about superfoods, then kale has to be at the top of the list. High in fiber, Vitamin K, Vitamin C, Vitamin A, Calcium and antioxidants, eating kale on a regular basis has to be one of the best things you can do for your health. And…it's yummy!
Use it in a soup, steam it, sauté it or bake it into kale chips and you can't go wrong. Check out MealEasy for many awesome kale recipes.
Here's a quick and simple way to enjoy some kale.
Kale Chips
• 4 cups kale, stems removed
• 1 tbsp olive oil
• ½ tsp salt
Preheat the oven to 350F
Remove the tough stems from the kale leaves.
Wash and spin dry in a salad spinner.
Place in a mixing bowl.
Drizzle with olive oil.
Sprinkle with salt.
Place on a parchment covered baking sheet.
Bake until edges begin to turn brown and leaves are crisp, about 12 minutes.
These will keep for a few days in a tightly covered container.
Next time you go to reach for a bag of potato chips for a snack, try some kale chips instead.